Best Air Purifier For Allergies 2018-2019: Buying Guide for Allergy Suffers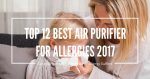 If you always get allergy attacks due to the quality of air in your home or office, getting an air purifier is one of the solutions you can look into. With the best air purifier for allergies, the air in your immediate environment can be cleaned and purified so that you can lead a more normal (and comfortable) life.
There are many different types of allergens in the air – and people are affected in many different ways (this will depend on a person's sensitivity to a particular form of allergen).
More...
Best Air Purifier For Allergies 2018
Air allergy symptoms can include:
Since most allergens are microscopic, you really can't see them. However, an air purifier can effectively capture them and filter the air not only from these allergens but from other pollutants as well.
Factors to
Consider
When Choosing an Air Purifier for
Allergy
TOP 12 RATED AIR PURIFIER FOR ALLERGY SUFFERS
How Air Purifiers Work in Filtering the Air from Allergens
There are 4 ways in which an air purifier can help in controlling allergens in your immediate environment:
When an air purifier is using a filtering system, allergens are pulled from the air and filtered so that clean, fresh air can be released back into the air. This is the main function of HEPA filters.
Filters can also trap odor-causing molecules that can trigger allergy attacks. Activated carbon filters are very good at this function.
When air purifiers use ionizers, negative ions are released into the air to purify it without having to use a filter. The negative ions will attach themselves to the allergens (which are positively charged) so that these will fall to the ground or attach onto surfaces. The process, therefore, takes all the allergens from the air so that they're easier to clean (through vacuuming).
There are also air purifiers that have ozone generators. These products release ozone into the air, which is very effective in cleaning the air from pollutants, germs, and allergens. However, in order for ozone to be effective, this gas needs to be released in high concentration – which is also toxic to humans and animals.
Sho
uld You Get More than One Air Purifier?
How Much Should You Expect to Pay
for
an Air Purifier?
Expect to pay more for branded and powerful air purifiers. Those that cost around $500 usually cover large areas and come with lifetime warranty.There are also models of air purifiers that are around $100.
These have good quality, too, but they may not be as powerful as more expensive units.You can also get cheap air purifiers and air fresheners – those that range from $10 to $20. These can come in the form of car lighter types and deodorizer bag types. They may be weak and inexpensive, but they work for small areas effectively.
Can Air Purifiers Help with Allergies?
Really, air cleaners for allergy sufferers never claim to be 100% effective in purifying the air from ALL types of dirt and pollutants that can trigger allergy attacks.
Choosing the Best Type of Air Purifier for Allergies
For an effective air purifier for allergies, take note of the points listed below.
Do let me know your thoughts as to which product is the most suitable to your needs – and don't forget to share this post with other allergy sufferers. Just keep in mind that the best air purifier for allergies is the one that can deliver on your personal needs.
Last Updated on