Best Air Purifier For Mold 2018-2019: Top Picks For Airborne Spores Removal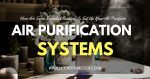 Best Air Purifier for Mold
Is mold affecting you? If you have the mold allergy, you need to get the best air purifier for mold. It's simply one of the best solutions to your health problem.
With today's modern air purifiers, you can wage war not only on mold and mold spores but on other allergens and pollutants as well. So, you see, an air purifier can really contribute to your overall health and wellbeing – while also controlling (and preventing) the development of mold in your home.
More...
Before going any further, let's first distinguish mold from mildew. We see it all the time – mold and mildew – these 2 types of fungi are usually paired together because they're very similar to each other. Scientifically speaking, however, they're not the same (just closely related).
Mildew, on the other hand, is generally colored white. So there – you just learned how to distinguish these 2 types of fungi by their colors.
As for their appearance, mildew basically has thin structures. In contrast, molds can develop into thick formations.There are also differences in the growth patterns of mold and mildew. Mold typically grows on dead and decaying objects such as:
Note that mold and mildew have one thing in common – they both thrive in humid and moist environments. In homes, you will often find mold and mildew in the bathroom, basement, and areas with water leaks and no proper air ventilation.
As you can see, mold and mildew are quite different from each other. But then, again, these 2 are referred to as almost the same when speaking from a household point of view. And so, generally speaking (not from a scientific viewpoint), mildew can be considered as an early form of mold when found in homes and building structures.
Although mold and mildew are very similar in nature, this post is mainly about mold – its bad effects on health, how to get rid of it, and how to prevent it from coming back. The role of an air purifier in fighting against mold is also one of the main concerns of this article.
Disadvantages of Having Mold
Aside from their disgusting appearances, molds can cause the following health problems:
TOP 12 RATED AIR PURIFIER FOR DUST
Understanding an Air Purifier
To put it simply, an air purifier works by filtering and cleaning the air of pollutants – which include allergens and germs. There are 5 basic types of air purifiers that are effective for combating indoor air pollution:
Best Air Purifier for Mold
While mold spores are airborne, they will soon evolve into molds and grow onto surfaces. They will then spread as molds and produce more mold spores in the air. Their life cycle will then continue on and on until controlled.
All 5 basic types of air purifiers work in combatting mold and mold spores (you need to kill them both). Fortunately, you will find air purifiers that carry one or more features of these air purifying systems.
Still, you need to understand how each type of purifier works in killing and preventing mold and mold spores in your environment.
Well, I really hope this post proved to be helpful in your battle against mold, mildew and mold spores. It's a battle we can all relate to, that's why I'm very passionate about it. Mold is ugly, the mold is bad – let's get rid of it fast!Pass this article along to your friends as they surely need to know all the information in this post as well. I would also appreciate it if you let me know your choice on the best air purifier for mold in the Top 10.
Last Updated on