Best Circular Saws 2018-2019 : Editor's Top Picks & Reviews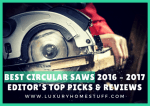 "Honey, we need a new table, could you please somehow… make one?" We were a young couple, and I was not into DIY project at that time. So I had no idea what to do. I guess we all have been through that moment once, right?
Thank god my father is a DIY enthusiast. He told me to use a circular saw and suggested me the best circular saws of all circular saw brands. He even borrowed circular saws from his friends for me, what a great father he is.
At first, I was overwhelmed by the amount of information. There are many types such as worm driver, sidewinder, cordless circular saw etc. Even more, there are circular saws for right handed/left handed people. Also, you need to choose the right blades for your work. Last but not least, safety should be your first priority that you should not take it lightly.
More...
Now, you might encounter new terms and get confused. Yet, you need not worry since I'll guide you through everything. Using the information from my father and my own user experience, I was able to make this review. The article is the list of top 5 circular saws.
Best Circular Saws 2018
Why are these circular saws included?
In this article, I try to include both light-duty and heavy-duty so you can have more choices. I divide the products into two categories including cutting metal and cutting wood. I tend to pick the best out of the class in each category so you can have the optimal choices.
For cutting wood
DEWALT DWE575SB – Dewalt DWE575SB is a powerful circular saw with 13 amp motor that can cut through any type of wood. The tool has an electric brake for more productivity and less kickback.
In addition, the bevel cutting scale is extreme, it is the only circular saw with bevel capacity up to 57 degrees. For added durability, the manufacturer also equips it with cord pullouts resistance to avoid dropping the saw. This is a really good circular saw for cutting wood.
Makita SH01W – This is one is a battery powered circular saw. Since it is cordless, the power and speed might be lower compared to other tools. However, thanks to such low-profile design along with the lightweight make this tool suitable for woodworking in tight spaces like toe-kicks and corners. You can use it in free-hand style.
Moreover, you'll get less kickback since the power and the speed are not enough to create a kickback. On top of that, the lightweight gives you all the control you want to wrestle against the kickback if there is any.
Skil 5480-01–This is a similar circular saw to Makita SH01W. However, the main difference is that this tool uses power cord for more strength and productivity. Similarly, this tool is suitable for woodworking.
The main selling point of this saw is that it is extremely inexpensive. Nonetheless, it has all the features of a mid-end circular saw like bevel cutting, a laser guide, a rip fence with blade-entry indicators and sight lines. The motor power is as strong as Dewalt DWE575SB. This is a great tool for tight-budget woodworkers.
For cutting both wood and metal
Milwaukee 6370-21 – This circular saw specializes in cutting metal. However, because it is so powerful, you can also use it for woodworking. The highlight feature of this circular saw is the cold-cutting feature. Specifically, the blade generates a minimal amount of heat, thus, the cutting object can be used immediately, increasing your productivity.
In addition, it is easy to clean thank to the built-in hot chips and sparks collector. On top of that, the circular saw produces almost no hot sparks at all. It also has onboard sight line for more cutting precision support. Lastly, it has to carry case that makes it easy to store and carry around.
Rockwell RK3440K VersaCut –You can use this circular saw with just one hand. For more precision support, the manufacturer also includes laser guide and rip fence. This tool might look small and weak but it is in fact very powerful. Besides cutting wood, you can use this tool to cut metal plate as well.
Additionally, there is a built-in dust blower to blow away the debris from blinding the cutting line, helping you cut more accurately. Lastly, the safety lock prevents children from accidentally starting this tool, this might hurt them severely.
Top 5 Circular Saw Reviews
Top Blades Recommendation
After reading all of this, you might acknowledge that choosing a right blade that fits your job is also very important. A circular saw won't work effectively without a compatible blade. Therefore, here is the list of top blades for different cutting materials.
Concrete Blade For Circular Saw
Masonry Blade For Circular Saw
Circular Saw Blades For Wood
Diamond Blade For Circular Saw
Circular Saw Blade For Metal
Conclusion
There are many types of circular saws that serve different purposes. Besides getting the right circular saw, you also need to know the right blade to use. As you can see, choosing the right circular saw for your work is not an easy task.
By providing the information about circular saws as well as the list of the well-known brands, I hope you can make your own decision based on this information. Anyway, I rate [insert name here] as the best circular saw on our list.
Last Updated on