"I hope you love the products I recommend! When you buy through links on luxuryhomestuff.com, I may earn an affiliate commission."
What happens in Vegas…
ends up on my iPhone. Ladies and gents, I had a smashing time at the Engage09::Encore conference in Las Vegas this past week. I will have a mega-recap coming soon with "real" pics, but for now, here's my quick iPhone version.
First of all, the Encore hotel is by far my favorite hotel in Vegas. (for those of you that don't know, I got married in Vegas 3.5 years ago and had my wedding dinner at Wynn) Check out the room and the entrance lobby! In my hurried travels, I brought my mail with me to open as I waited for my flight. Caroline from Paloma's Nest, who I absolutely adore, sent me this special keepsake with my catch-phrase on it: Making Things Happen. Thank you so much, Caroline!
Before the rush of the conference started, I took a few hours to explore the spa, designed by Engage speaker Todd-Avery Lenahan of ABA Las Vegas. Stunning! As a bride, I wouldn't be able to resist this place… serene, warm, inviting, and just breathtaking. Todd, can you come re-do my house for me when you're not busy ruling the Vegas design world? Below right enjoying some quality time with two of my favorite wedding women, Emarie and Harmony.
So, I set up two shoots while I was there. For the first shoot, I was just in charge of getting the dress. Well, the photographer told me what he wanted and I walked into Couture Bride in Las Vegas and had to uh… "make an executive decision". I saw this Vera Wang gown –the gown of my dreams– and just had to have it. I tried my very best to resist trying it on, but I had a major moment of weakness… swoon.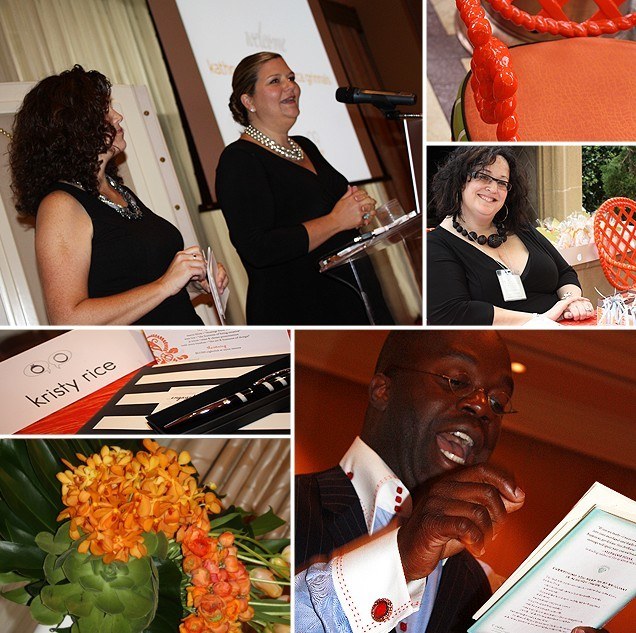 Below: my rep client and good friend, Kyle Barnes, shooting at Encore. (Yes, I was jealous of the model in this gown!) Hair and makeup by Lindsey Byrd, who was fantastic. More to come from Kyle soon…
We were thrilled to be able to shoot the phenomenal Randy Fenoli of Say Yes to the Dress fame for our upcoming print edition. Randy has become a great friend and always such an encouragement to me. He really exudes happiness and makes women feel beautiful in every way. I told him that I want to plan another wedding to Ari just so he can dress me! Special thanks to Kleinfeld for the gowns, Jacquie and the amazing team at the Wynn for steaming the gowns at the very last minute, Las Vegas Mannequins for the dress forms, and to Randy for … well, just being Randy.
The welcome reception for the conference was held in the Encore Spa. The pics do all the talking… unreal.
Tuesday was the day to soak up knowledge from the best of the best in the wedding world. I was overwhelmed by the people sitting in the room with me. Seriously, how blessed are we to work in an industry with such inspiring professionals!? Conference creator, Rebecca Grinnals, gave a very eye-opening and candid presentation on the current state of the luxury wedding market. Her insight, as always, changed the way I think about the wedding world and redirected my vision.
Kathryn and Rebecca always have surprises up their sleeves! Left to right below: wine bottled just for us from JT Wines in Napa, custom paper goods by Momental Designs and gorgeous linens from La Tavola at our luncheon, and more goodness from Paloma's Nest. Caroline created eggs with a different inspirational word on each for Sean's presentation. Mine says "Dedication". It couldn't be more fitting.
The speakers (so much more to come in my Mega Recap) were just phenomenal. Below: Simon T Bailey, Sean Low, Todd-Avery Lenahan. Not pictured: Marcy Blum, Rebecca Grinnals, and the marketing team from The Knot.
Amidst all the business talk, we did of course have a lot of fun. It was so wonderful to "engage" with old friends and I definitely met some life-long new friends. Here are a few great shots from the Love Life Images Snapshot Studio.
The photo booth should have been titled the "Randy is Fabulous Booth". Check out all the images here.
Thank you Rebecca, Kathryn, Encore, Wynn, and all the speakers for such an inspiring conference!