GermGuardian Air Purifier Reviews 2018-2019: Tips on How to Choose the Best Air Purifier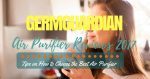 Guardian Technologies, the maker of GermGuardian air purifiers and other small appliances, is a well-known Company. For this particular post, I will provide you with GermGuardian air purifier reviews in order to help you out in picking the best air purifier for your needs.
To put it simply, GermGuardian air purifiers are used to combat air pollution. Well, that's really the main purpose of all air purifiers – but a lot of people simply trust GermGuardian.
Although there are a lots of air purifiers on the market, I understand why you trust GermGuardian, too – and that's why you're looking into buying their products. It's a reputable Company – and their brand name on an air purifier means that you're getting a good product.
More...
GermGuardian Air Purifier 2018: Top Rated Reviews
5 Types of GermGuardian Air Purifiers
GermGuardian air purifiers come in different forms (shapes and sizes, so to speak). Before going any further, I want you to understand that there are different models of GermGuardian air purifiers to choose from.
TOP 12 RATED GERMGUARDIAN AIR PURIFIER REVIEWS
Which are GermGuardian Air Purifiers Suitable to Your Needs?
Well, I don't need to convince you that GermGuardian air purifiers are really good because most (if not all) of their models are very effective in cleaning the air from pollutants and contaminants. Let me just share with you my favorite models in the Top 12 list.
For an all-around air purifier, I would suggest going for the tower types. Aside from having slim designs and being portable, these models are also very powerful. I would say that it's a toss between the GermGuardian AC5350B and the GermGuardian AC4825.The GermGuardian AC5350B uses a True HEPA filter, a carbon filter, and a UV light technology. It also comes with 5 speeds and is ideal for use in medium to large rooms.
For a less powerful model, you can choose the GermGuardian AC4825 (which is GermGuardian's bestselling model). It mostly works like the AC5350B model, but it only has 3 speeds. Since this unit is less powerful than the GermGuardian AC5350B, it is only suitable for use in small to medium sized rooms.
For a stand-alone model (which is also good for all-around use), I would suggest going for the GermGuardian AC9200WCA Air Purifier. Note that it's the only stand-alone model in the Top 12 list (GermGuardian seldom makes stand-alone types) and it's the only one with an ionizer feature as well. Therefore, it carries all of the best air purifying methods in the industry.For a tabletop air purifier, you can check out the GermGuardian AC4100. This compact unit is equipped with HEPA filter, activated carbon filter, and UV light technology. With its 3 speeds, it's powerful enough to purify the air in small to medium-sized rooms.
There's also a GermGuardian air purifier that's especially made for your kids' room. If you're looking for a bedside air purifier that also serves as a nightlight, this model makes for a perfect choice. It even comes with a projector with 3 children's themes. As for its air purifying system, it uses HEPA filter, charcoal filter, and UV light technology. It only has 3 speeds – and its limited power only makes it suitable for use in small rooms.
Now, if you want the luxury of controlling your air purifier from wherever you are, you can get the GermGuardian CDAP4500BCA WiFi-enabled air purifier. It uses True HEPA filter, carbon filter, and UV light technology. This model is quite powerful with 5 fan speeds and it can be used in small to medium sized rooms.
Needless to say, all GermGuardian air purifiers are reasonably priced and worth every penny. It's only understandable that models with more features are priced higher than low-powered units – so, it's really up to you to choose.As for their performance, you will notice that all models basically perform really well (depending on their total capacity, features, and design). Even their flaws are quite the same – the units are basically quiet, but are loud on high (this is quite normal in almost all air purifiers). Note, too, that desktop models are usually noisy (even on low).
Since GermGuardian typically use True HEPA or HEPA type filters, prepare yourself to replace these filters regularly (HEPA filters can last anywhere from 1 to 5 years). The carbon filters are replaced more frequently (about every 3 months or so). In my opinion, spending on filters is still worth it because they perform so much better than the permanent, washable types.
Well, I hope you have learned everything you need to know about this one brand of air purifiers. The section on GermGuardian air purifier reviews is particularly intended to help you choose which models are most useful for you.
Do let me know your thoughts by leaving a comment below. And don't forget to share this article with your friends who are also anxious to find out more about GermGuardian air purifiers.
Last Updated on