30+ Must Have Painting Tools That Every Painters Should Have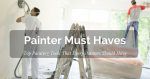 Are you about to start your painting project? Then, you have to know about these painting tools. Some of them are obvious, while the lesser known tools are there to create unique effects.
Watch them before you start and make your next painting project an original and unique piece of art. There is no need to paint a landscape to become artistic. You can create unique effects with paint using certain rollers or sponges.
More...
30+ Painting Tools That Every Painter Must Have
The painting step ladders are essential. Most walls are taller than us, and it will help us reach those places above. Make sure it has a convenient place to put the paint and painting tools. (Out top pick for best step ladder)
Paint brushes are perfect for detail corners and small places. You can also make use of paint brushes to create some artistic effects. Experiment with the texture you can give with a paint brush. (Our top pick for best paint brushes)
Paint Bucket For Paint Brushes
You can hold this paint bucket by one hand because it has adjustable strap to fit your hand. It's very comfortable, reusable and it's perfect for trim work.
Painter's Comb - The Paint Brush Cleaner
This two sided comb is used to clean your paint brushes and remove all heavy paint build up. (our top pick for best paint remover)
Sometimes, Painters Are Artists With Their Artist Paint Brushes
If you are an artist and you would love to draw something like an art, these artist paint brushes are your weapons. We have researched and reviewed about seven artist paint brushes so you can pick them now.
Plain Paint Rollers for a Clear Sky, and Paint Rollers
Paint rollers are one of the most versatile tools. You can use a standard plain paint roller to paint uniformly. It is the fastest way to apply color. There are other paint rollers with figures to print on walls unique designs. (our top pick for best paint roller)
The Dwarfs can reach the Sky with Paint Roller Extension Poles
The extension pole is a must have accessory for your paint roller. You don't need to get an exclusive tool. Most paint rollers are compatible with just any stick. (our top pick for best paint extension poles)
Painter's Tape is best to avoid making a mess
The tape is the best way to do a neat job. Use it extensively to cover small areas you don't want to stain.
Save some money with Paint Roller Frames
With paint roller frames you will not just save money. Also, save the environment. Remember that paint roller is not all disposable. The frame can be reused.
Just Another Paint Bucket For Paint Roller
If you have ever used the paint roller to paint the wall, this is a must have tool for you. It's 4-gallon paint bucket and very easy to move it around.
Use a Foam Brush Set to Paint like a Lady
The foam brush set is like the ladies brushes. You can create unique effects on a surface with all the different sizes and options.
It's paint removal tool and it is designed to replace normal hand scraper since putty knives take lots of time and man power to take out the paint. You can use this tool to remove chipping, peeling, dusty paint faster than putty knives.
This goggle protect your eyes from dust and debris. Most important thing, it's a non-pressure and anti-fogging glass and you can use it while doing some woodworking work.
Construction Masks - Dust Respirators
This mask is a cool flow, easy breathability mask. It is designed to help painters, woodworkers, people at construction side from negative particles.
You can use this inexpensive tool to hold cabinet doors to paint. There are 10 pyramids in one package and they're made of plastic.
Take your Plans to Real Life with your Quick Square Layout Tool
The quick square layout tool is a huge squad ruler to draw perfect angles. It is like drawing on paper when you were back in school.
You can this tool to speed up your masking task. It's the fastest way for masking while you are painting or wall finishing.
You can preserve your wall using Clear Acrylic Sealers
If there is a wall you'd like to preserve, the clear acrylic sealers might be the answer. Use them to obtain a glossy finish, and protect the paint below.
A Professional Gloss Gel to make sure you don't have to Paint Again
The professional gloss gel is the perfect finish for your intricate designs. You can use it as a protective coat on top of your wall.
A job for Sponge Bob: Large Area Drywall Sanding Sponge
This is a square sponge, just without pads for painting. It can have many uses. You can use it for cleaning, and to apply paint. In such case, make sure is it a clean (preferably new) sponge for better results. The effect of sponges in the painting is fascinating.
The DryDex Spackling Interior/Exterior
When you don't have a smooth surface, you can use a product like the DryDex Spackling Interior/Exterior. It will reshape your wall until it is even and smoothes.
The Machine that will help you paint: Power Roller
Use the power roller if you find painting too tedious. Also use it if you need to paint a big surface in a short time, it is an excellent choice.
Combine and Create on your Paint Tray
The paint tray allows you to serve painting. You can use it to mix different colors and create your unique and original tone.
Everything you need to Paint: Premium Paint Kit
Don't go around looking for your painting tools. Choose one of the many excellent paint kits available. You can complement the necessary tools with those specific things you use. Packages are usually cheaper, so you will also save some bucks.
To reach the hardest places uses a Paint Ladder
A paint ladder is perfect to paint those hard to reach places. No matter how many extensions you use, it is always better to stand up on top of a ladder. You can also clean, protect or unmounts whatever is needed. (our top pick for best paint ladder)
Don't mess with the floor and use Paint Drop Cloths instead
Don't you find it upset when there are paint drops on the floor? Protect it with some paint drop cloths. That way you don't have to know how to remove paint from the surface.
For more resistance use Tarpaulins for drop cloths
When traditional drop cloths are not strong enough, use tarpaulins. They are resistant and water proof. Especially when you have a big job, these are better.
Seal the edges using your Caulking Gun
Windows and certain doors need a seal. Use the best caulking gun to apply silicone or other substance.
A putty knife is not precisely a knife. However, it is one of the most useful tools you will have. Take off paint, and clean a surface with a putty knife. Pick different sizes to solve all your needs.
Painter's Advanced Putty Knives
A combination of six in one features and it's called "The Red Devil". You can use it repairing and refinishing jobs.
Gouger
Scraper
Putty remover
Spreader
Roller cleaner
Power Paint & HVLP Sprayers - Best Paint Sprayer for Painters
It's extremly easy to use and you can use it to paint or remodel your furnitures, doors, cabinets, drawers, baseboards, etc. (our top pick for best paint sprayer)
Revolver Drill Brush - A Smart Scrubbing Power Tool
This tool is extrenly useful when it comes to scrubbing dirts on shower floors, bath, fiberglass tub, shower glass etc. It is lightweight so that woman can use.