1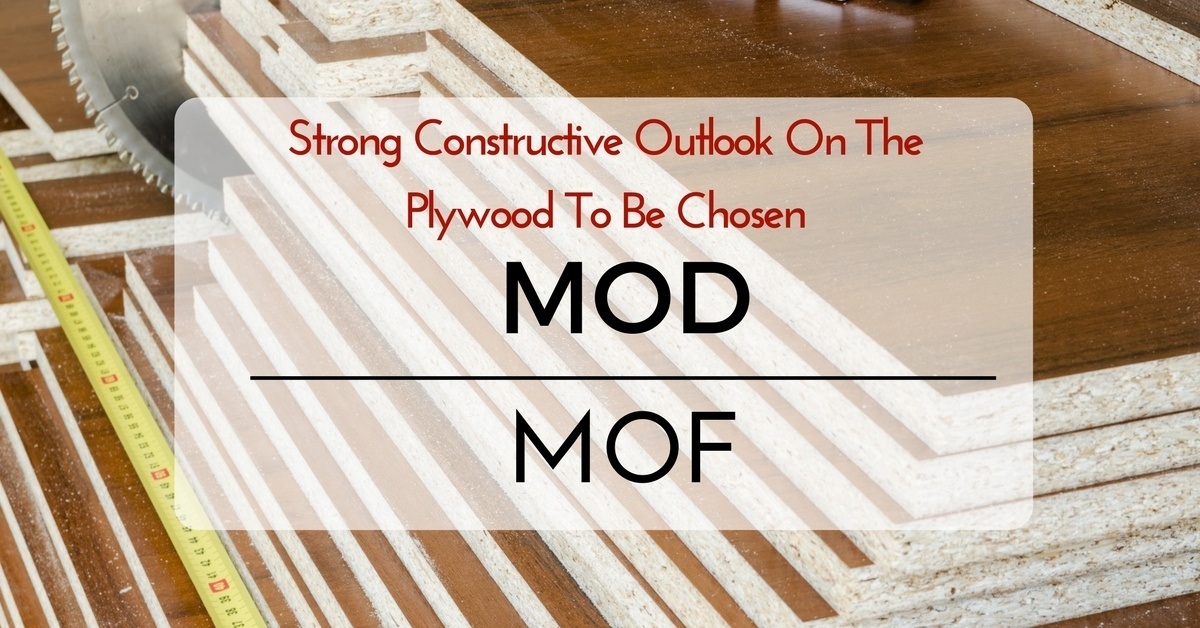 MDO vs MDF: Strong Constructive Outlook On The Plywood To Be Chosen
The increase in the world population has not only caused a heavy increase in the demands of people, but also the standards of living.
As it is rightly said, the foundation of all buildings must be strong to make it long lasting, the same case is also applicable where plywood is used not only in the construction industry but also, beginner woodworking projects.
This article gives a brief perspective of two majorly used types of plywood namely, Medium Density Overlay (MDO) and Medium Density Fibreboards (MDF).
To understand which one of the above mentioned is better, we must analyze all their properties and areas of applications briefly. But before that, let's get a brief overview of what these two materials actually are.
More...
MDO is basically various individual layers of wood which have grains perpendicular to each other, fused with each other with a resin impregnated overlay.
They are formed under very high pressure and heat in order to create very strong bonds between each layer. The resin content is about 27%.
Primarily single or both sides of the plywood are coated with a 100% waterproof fibrous coating.
It is used both for internal and external applications, mainly wood shelving, sign boards etc. to name a few.
MEDIUM DENSITY FIBREBOARDS
MDF is a plywood material made up of broken wood fiber, which is reconstructed into different shapes of varying widths. The final product is obtained by fusing it with resin based glue under high pressure and heat conditions for efficient and dense binding.
Paraffin wax is also added into the composition mixture in order to make it a bit water repellent.
The main composition is of 82% wood fiber, 9% resin glue, 8% water and 1% paraffin wax.
It is majorly used for internal applications like for decorative structures shelves etc.
HOW TO CHOOSE THE MATERIAL?
---
In the many applications that engineered plywood has, a few important parameters always need to be carefully considered and specifically analyzed when it comes to a using the material specifically for a particular use or condition.
A few important parameters that woodworkers look into are:
Density
Application
Resistance to corrosion
Resistance to water
Suitable to use in which weather condition
Durability
Cost Effectiveness of the material
Ease of availability
Maintenance
This section of the article covers the performance of MDO and MDF as per various parameters.
Weather
Resistance

DURABILITY AND
STRUCTURAL SUPPORT
Density and
material weight

Surface properties

Cost

Ease of usage
Being impregnated with a resistant layer of resin, MDO is designed to handle the extreme conditions of UV rays, heat, and humidity. This is not observed in the case of MDF, where the application of humidity and heat can instantly degrade the material and make it easily accessible to termite etc.
With the impregnated regular resin coating on its top, MDO is also resistant to chemicals and regular wear and tear, better as compared to MDF.
Example:
This property of MDO makes it suitable to be used for any external application like signboards, flex sheets and so on, which require being used in areas or applications where the weather conditions are severe.
This not only helps save the cost of maintenance of the material but also its life and the frequency of its replacement.
APPLICATIONS
After a closer analysis of the various parameters which are used to choose the material, it is important to know where they can be used in order to increase the quality of the product being used:
Applications of MDO
Due to its highly durable and robust nature, MDO is majorly used for all Highway signboards. This not only gives a chance to easily paint and letter them but also saves the time when it should be replaced and hence the overall cost of the project.
Concrete made of MDO are easy to wash and scrape off.
It may also be used to make garage doors and safety fences due to high strength.
Being environment and chemically resistant, it is used to make chimney enclosures too.
As an internal housing application, MDO is used to make decorative pieces, woodworks, door panels.
It is also used to make walls, shelves and small scale partitions in newly constructed and beginner woodworking projects due to its ability to be easily handled and used.
Applications of MDF
Due to the complications in its manufacturing and difficulties mentioned, MDF is preferred to be majorly for internal applications.
Because of its flexibility, it is used for beginner woodworking projects where there is a scope for experimentation.
It is used to make wardrobes, cupboards and table tops which do not require high tensile strength.
Extensive usage in kitchen and bathroom interiors.
Also used as storage backs, toys, board pallets and door skins to be painted.
The resin used in the manufacturing of MDF is in usual cases a urea-formaldehyde based resin. In many cases, the use of this chemical leads to the emission of formaldehyde gas. Prolonged exposure to this gas has both environmental concerns as well as health hazards for humans and living organisms that might get exposed to it. This may also give rise to risks like cancer.
As the base component is sawdust, it is found to be hazardous to those suffering from respiratory problems.
Due to low core strength, it bends on the application of heavy weight.
In case it comes in contact with water, it swells up and is then a waste.
Panels are heavy to operate and use as the resin base used in heavy.
Maintaining MDF is always an issue as in cases where it cracks; the whole product/panel then needs to be replaced.
CONCLUSION
Medium Density Overlay Plywood and Medium Density Fibreboard plywood are two major extensively used wood materials used. As compared to the hardwood, they are cheaper in rates and have a wider range of application too.
Medium Density Overlay is prepared using a number of layers of wood that are fused together in the presence of high pressure and heat. The tops of both sides are impregnated with a specialty resin material that binds the plywood and also makes the surfaces smooth and easy for lettering and painting.
Among its various properties, MDO is considered to be highly durable and strong due to its high tensile strength caused because of the internal bonding. The glue used to fuse the wooden layers together is 100% water and corrosion resistant, making the material unaffected by weather conditions of humidity as well as wear and tear.
It also has consistent drying time due to the resin insulation on the surfaces. Keeping all these factors in mind it is majorly used in extreme and outdoor conditions like slides, highway signboards, chimney enclosures, etc.
Medium Density Fibreboards, on the other hand, are a batch of fused wooden residual fibers or sawdust under high pressure and heating conditions. They are composed of paraffin wax, water, and a Urea-Formaldehyde resin binder. The resin may lead to the release of Formaldehyde gas, hazardous to health.
But this issue can be resolved with the application of a layer of adhesive on the surface. Being less strong and durable, it cannot handle extremely heavy weights and may collapse due to its center of gravity if used as a lengthy material. On coming in contact with water, the surface opens apart and gives it a swelled up to the texture.
It is majorly used in internal applications like design and construction of table tops, shelves, walls and small-scale household partitions.In all both types of plywood have their respective pros and cons, on the analysis of which they are used for specific applications.
But when it comes to choosing one material over the other, the Medium Density Overlay Plywood offers a wider range of opportunity, both internal as well as external. Though as compared to MDF, it is bit expensive, it can be considered to be a one-time investment, which can save future repair and replacement which may be caused due to the usage of Medium Density Fibreboards.
Last Updated on