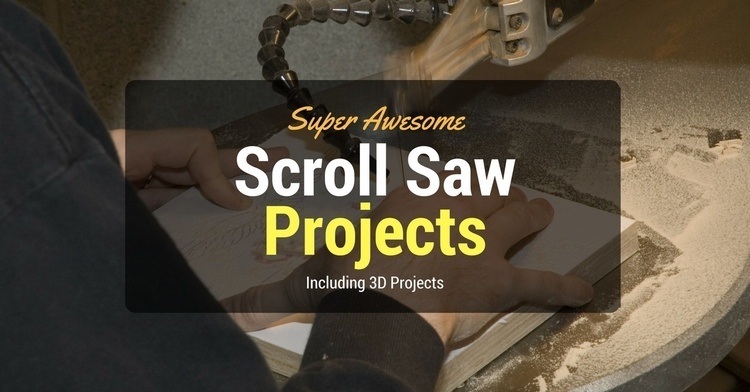 22+ Free Scroll Saw Patterns: 3D Scroll Saw Pattern Ideas For Beginners
One of the essential items of woodworking is the scroll saw. Using the proper scroll saw is very important if you want to achieve the best results in woodworking. So, the first thing to do is to choose the best scroll saw for our purpose. In the next few paragraphs, that is exactly what we are going to do.
Then we are going to go a few steps further and give you quite an eyeful of examples of scroll saw patterns, 3D scroll saw patterns and things to make with a scroll saw.
More...
Related Woodworking Projects:
Now, we come to different scroll saw patterns.
Fretwork patterns
As per Wikipedia, "Fretwork is an interlaced decorative design that is either carved in low relief on a solid background or cut out with a fretsaw, coping saw, jigsaw or scroll saw. Most fretwork patterns are geometric in design. The materials most commonly used are wood and metal."
Here are some fretwork patterns and fretwork woodworking:
Here is some scroll saw patterns and scroll saw woodworking:
Below are a few 3D scroll saw patterns:
A Few Scroll Saw Patterns
Some Information About A Scroll Saw
There are different types of power saws. It can be tile saw, table saw, scroll saw and others. This type of saw uses a continuous motion of up and down and piston sharpened saw blades through wood very fast.
This scroll saw is a portable power tool which has been designed in such a way that it can be attached easily to a worktable.
These are generally used accurately and precisely cut curves and other flowing shapes into wood. It usually contains a vertically-mounted saw blade system positioned over a work surface that can be swiveled and adjusted to make curved and edged cuts.
What are the different types of Scroll Saws?
The scroll saws can be of different sizes to allow more flexibility and portability while doing accurate curved and edged cuts. There are scroll saws which use very advanced engineering on the arms control for reduction of vibrations.
The blades and other attachments are designed to be replaced by using secure locking and release mechanisms. The different models offer various cutting speed for increasing precision and accuracy.
What are the advantages of owning a Scroll Saw?
Whoever works with wood know that no other power tool can easily and accurately make edged and curved cuts better than a top-quality scroll saw.
At the time of crafting intricate details into the woodwork, a good scroll saw is a must for the precision and power. Anyone owning a scroll can accurately and efficiently make a variety of curved and edged cuts.
Considerations for Choosing the Best Scroll Saw:
Speed Control
You have to remember that faster the scroll saw can piston the blades, the more precision and accuracy can be achieved on curved and edged cuts. The speed at which a scroll saw operates varies widely among different models.
Generally, slow saws can manage about 400 strokes per minute. But the fastest models can run at speeds exceeding 1800 strokes per minute. The new entrants in the market have variable speed selection.
This makes the scroll saw more versatile. This is because varied materials demand a range of speeds.
| | |
| --- | --- |
| | Thin materials, brittle materials, veneers, walnut, soft plastics |
| | Thicker wood, non-ferrous metals |
| | Leather, paper, cloth (between poster board or plywood), most woods |
Scroll Saw Drive Options
Generally, scroll saws have parallel arm drives and the motor is mounted to the rear. Another popular scroll saw drive is the parallel link. This is equipped with rods in the upper and lower arms.
The arms push short, moveable pieces that secure the saw blade. Due to the parallel link setup, it reduces vibration and noise during saw operation.
Types of Saw Blades
The correct blade for the job is critical to success. Types of scroll saw blades include skip tooth, double skip tooth, spiral, crown or two-way, metal cutting, diamond, reverse tooth, and ultra.
| | | | |
| --- | --- | --- | --- |
| | A blade with equally spaced, identical teeth | General cutting, designed to clear sawdust as they cut | Larger teeth for wood, smaller teeth for metal |
| | A blade with a single gap between teeth | | Wood, plastic, and fibrous materials |
| | A blade with a single gap between every two teeth | | |
| | | Cutting in all directions | Wood, wax, jewelry metals, specialty |
| | A blade with teeth facing both up and down so that it cuts on up and down strokes | Cutting specialty materials | Plastic, Plexiglas, hard or soft wood, corian |
| | | | Brass, copper, silver, aluminum, and other hard materials |
| | A wire coated with diamond dust | | |
| | A blade with reversed teeth on the bottom 3/4 inch of its surface | Fine woodwork, prevents splintering or tearing at the bottom of cut | |
| | A blade patterned with several teeth down and one tooth up | Intricate patterns, removes dust as it cuts | |
Changing Blades and Accessories

– The saw blades also wear out. A good scroll saw should allow for quick and easy removal as well as an installation of saw blades.

The size of Cutting Surface

– With a large scroll saw a larger surface of a material can be cut with a single pass. The advantages for using smaller models are portability and easier storage.

Additional Features

– There are scroll saws which use advanced engineering functions to reduce vibration. In some scroll saws, dust blowers are added.This is done to prevent particles from entering into the machine and damaging the motor. Many scroll saws can make inside cuts to materials.
Scroll saw projects are not so difficult to do if you are patient and interested in learning. And once you get the hang of it, you will be amazed at what works of art you are capable of creating!